Four Trendy Restaurants in Dubai
Dubai, being one of the most cosmopolitan cities in the world, has a food and restaurant scene that enables both travelers and locals alike to travel from the table at the restaurant they are dining at.
In Dubai, food is so exotic, it's hard to choose where you want to dine. There are restaurants spread throughout the city who produce and serve up virtually every national cuisine you could imagine, including its very own traditional cuisine.
What's more, there are numerous restaurants that are owned by celebrity chefs, bringing five-star cuisine to their tables and fancy dishes you never thought you would try before.
If you are visiting Dubai soon, and are wondering where the best places would be to wine and dine with your friends or family, we have put together a list of three amazing restaurants that we think are worth visiting:
Pierchic
Located at the very end of the pier at the beautiful Al Qasr Hotel, this over-the-water restaurant offers its diners stunning views that look over the Arabian Gulf as well as amazing cuisine.
The restaurant's menu is modern European, and sets the seafood standard in the city with its amazing culinary offering that is inspired by the world's oceans, and includes the likes of fresh catch and sustainably sourced produce delivered to the restaurant every day.
In addition to their daily menu, every Friday the restaurant holds their delicious Friday Brunch, where diners can enjoy their surroundings with a touch of Ibiza-chic and indulge in some of the most delicious seafood the oceans have to offer.
Eauzone
You can find this gorgeous modern Asian restaurant at the One&Only Royal Mirage, beach-side and floating on majilis.
Diners can expect international cuisine with an Asian twist, and an opportunity to sit in the sunshine being bathed by both the blue f the sky and the sea.
Surrounded by palm trees, Eauzone is home to shaded decks and a shimmering pool and has a casual ambiance during the day which turns super stylish when the sun goes down. '
Bread Street Kitchen & Bar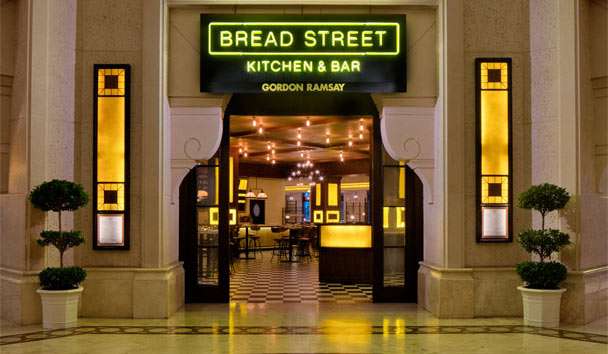 You can find this gem, opened by celebrity chef Gordon Ramsey, at Atlantis, The Palm – a luxury hotel in Dubai – that serves up delectable British European cuisine you do not want to miss out on.
Mirroring the warehouse style of his London Bread Street Kitchen & Bar restaurant, his Dubai restaurant is just as lively and is one of the trendiest places to be seen in the city.
From his Real English-Style Fish and Chips to his signature Beef Wellington, every diner will feel like they are sat in a cosy bar in England enjoying some of the best English food they can get their hands on.
Al Hadheerah
Not forgetting to include traditional Arabian cuisine, Al Hadheerah is the signature restaurant of the Bab Al Shams Resort, which is hidden amongst and surrounded by giant sand dunes.
While indulging in some of the country's best traditional food, there is a selection of live entertainment that takes place, too, some of which includes actors riding horses, belly dances and henna artists.
No matter when you hang out in Dubai, you are guaranteed to be delighted by the delicious food and unique atmosphere each one provides you with, and there is no doubt that you will leave feeling full, happy and satisfied, no matter where you choose to wine and dine!